HOUSE
AUTOMOTIVE




EXCLUSIVELY

PORSCHE®
Personalized Service with Genuine Care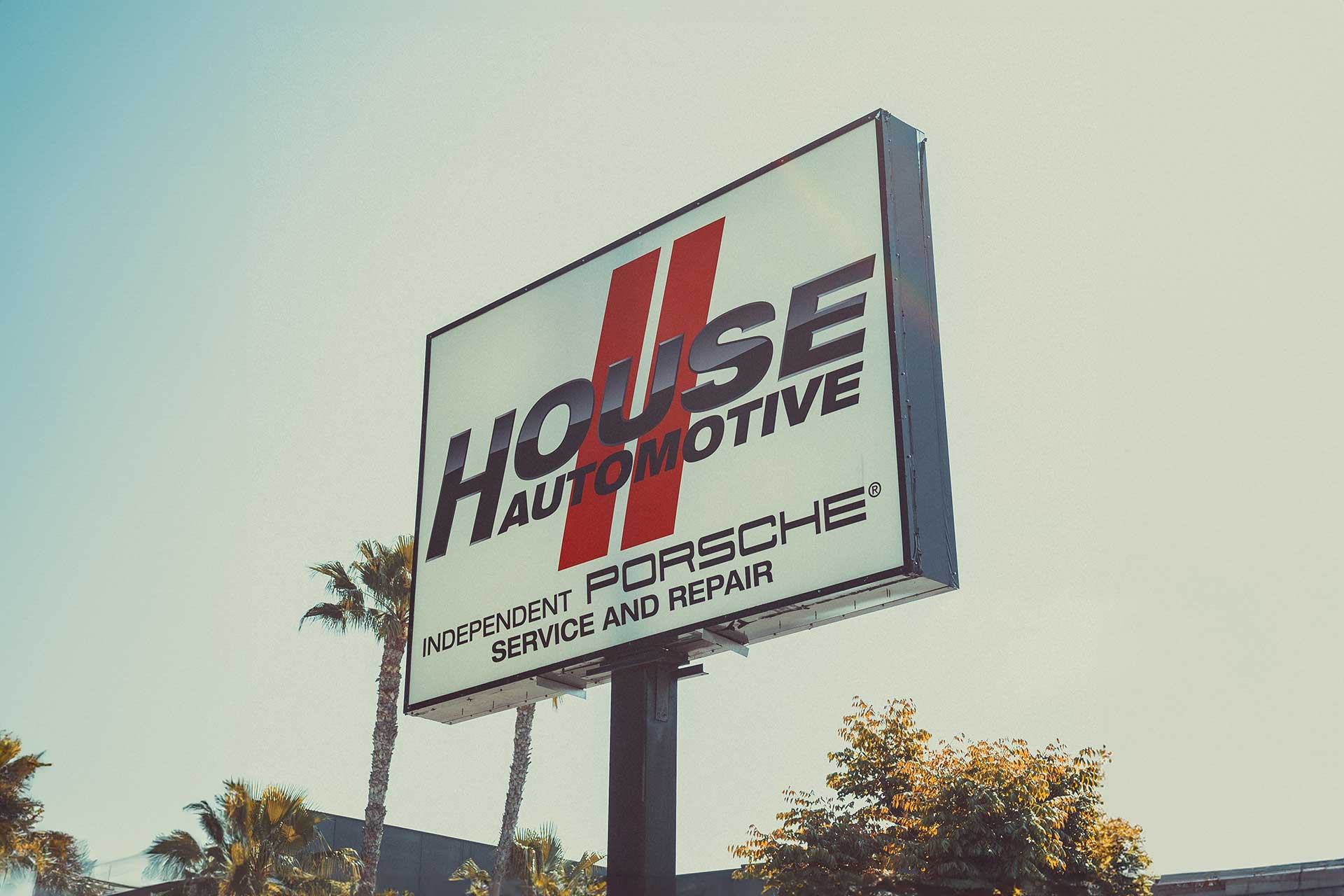 WHO

WE ARE

At HOUSE Automotive, we aim to provide a comfortable, efficient, and simple experience for our customers. We offer complimentary pick-up and drop-off flatbed services, as well as complimentary rental cars and shuttle services. Our state-of-the-art facilities in Encino, Pasadena, and Thousand Oaks, staffed by independently certified Porsche service technicians, are dedicated to providing the special care and attention your Porsche deserves. We work diligently yet efficiently to keep your Porsche in optimal condition.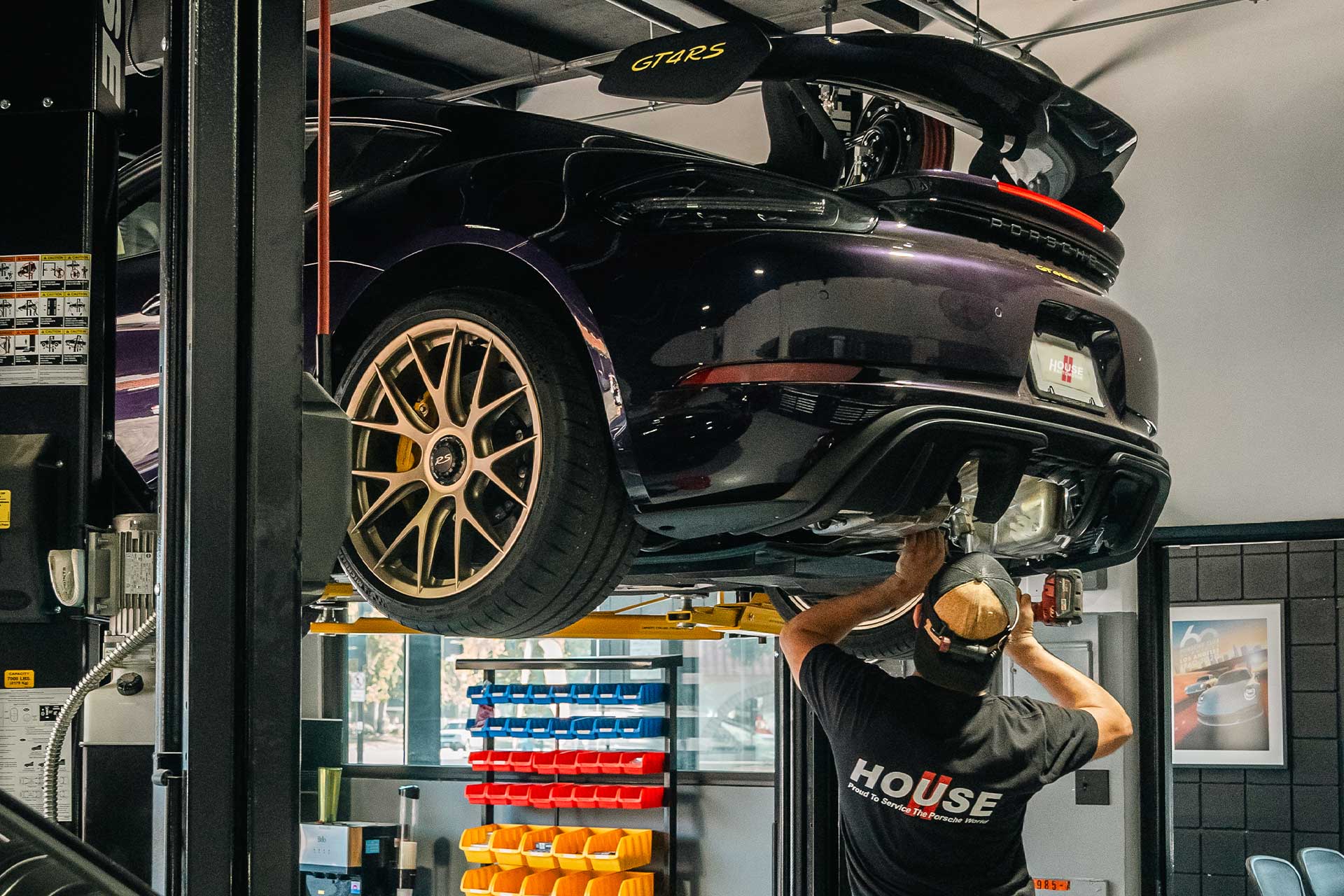 WHAT TO
EXPECT
We offer more than just repairs and maintenance for your Porsche. Our goal is to provide a complete experience, ensuring customer satisfaction and the longevity of your vehicle. Our passionate, expert staff and certified mechanics are dedicated to offering the best technical services, advice, and next steps for your Porsche. We are committed to providing fair and transparent pricing, offering more cost-effective services compared to dealerships while safeguarding your factory warranty.
From extensive repairs to simple routine maintenance, our team of experienced professionals provide services for all of your automotive needs. Porsche repair and maintenance requires specific tools, such as the Porsche Integrated Workshop Information System, or PIWIS. Our independent Porsche service specialists are dedicated to ensuring the optimal performance of your vehicle. Trust our expert independent Porsche service center to provide the dedicated attention you and your Porsche deserve.
We pride ourselves on providing reliable and efficient services that exceed our customers' expectations. With three conveniently located service centers, we ensure that our valued customers have access to our expertise at their convenience.
House Automotive
17554 Ventura Blvd
Encino, CA 91316
M – F | 8AM – 5PM
House Automotive
1567 E Walnut St
Pasadena, CA 91106
M – F | 8AM – 6PM
SAT | 9AM – 2PM (By Appt. Only)
House Automotive
3043 E Thousand Oaks Blvd A
Thousand Oaks, CA 91362
M – F | 8AM – 5PM
Steven at House is what every service advisor should be. Made me feel welcome and offered me various options for my Porsche 911 T-S. I would definitely recommend House Auto and absolutely recommend Steven.
My service rep Aaron was amazing through out the process. Very knowledgeable and transparent service. Guided me through the whole process and got my car back on road better than ever
I met Christian the mechanic, he seemed very interested and knowledgeable. I think I would be willing to give this place a try. I liked the garage setup. T.O. location.
Aaron and the whole team at house automotive are going above and beyond to help with an issue I am having on car. Very helpful and customer service is clearly their top priority!!!..very impressed!!
Always great service, Fair price. Friendly helpful service advisors. Highly recommend. This is the experience the Dealerships should aspire to.
Christian Spence
1701118571
I have been bringing my Porsche here for 4 years and it has always been a great experience.
I have been bringing my Porsche here for 4 years and it has always been a great experience.
Karina at House Automotive was very helpful. The mechanics there do a great job on my old 911. The price for service at House was about half the cost that a Porsche dealer quoted.
After having had a bad service experience at my local Porsche dealer I looked for an independent place that offered specialized Porsche service. I found the great reviews House Automotive received and decided to take my 718 Cayman for service. I'm so glad I did! I received top customer service throughout the entire process. Andy Reyes was very knowledgeable and explained all my options very patiently and in great detail. He answered all my questions. I can honestly say that I finally found the perfect place to service my Porsche. Thank you Andy and the entire staff for making my service experience a very pleasant one!
So good ! Very appreciate your service 🙏
The best porsche service ever. Also Andy was great!!! The complementary wash looked better than I can do Thank you for all your services I will always go to House Automotive in Pasadena
Grate service excellent work hiley requiremended very friendly 👍
Honest and excellent service. Andy and the rest of the team at Hoise of Porsche are fantastic. I highly recommend their work.
Murtaza Sanwari
1699665524
So I have a 1998 993 C2S that developed a oil leak. What the heck, who would have thought of that? 🤔😅.Anyway went to my independent Porsche place who I had used for 15 plus years. He's very highly respected in Porsche circles. Diagnosed the problem but backlog(timing chain gasget required engine removal). Can't get to it soon. 6 months passed and still can't get to it. Recommended another OC independent and took car there and he confirmed the issue . Put on the wait list again. Another 6 months and still no commitment on when they could do it.Took my wife's BMW for service at the place we use and got to talking since he's a Porsche guy. He highly recommended House. Called them up and Andy took care of my car.Good discussion right off the bat and they confirmed the prior diagnosis of the other guys.Approximately 2 weeks later I have a none smokey car back.Andy was great. Kept me informed plus we took care of alot of other things while the engine was dropped out. FYI dropping the engine is pretty expensive so take care of little issues at that time. That's what he did.Really appreciate the great service and communication.Craig
This is my "go to" place to service my Porsche Cayenne… Great service, great prices, great dudes! I would not go anywhere else.
2014 Cayenne T, 90k miles- Andy was awesome throughout the service on my car. Great explanations of everything, good communication on when to expect it back, free Uber home, had another issue after picking it up and he got it right back in and on the road by the next day. Highly recommend.
Great customer service and professionalism! Would recommend anyone to drop off their Porsche here.
I really trust this place with my old car, my new car and always count on their knowledge to help maintain my car as needed.
Andy provides the ultimate service to take care of our auto needs
House is the best. My go to shop for all my Porsche needs. Andy is my favorite - always comes through. Gregg has built a great group of guys caring and doing a good job every single time. Highly highly recommended!
Very good experience. Knowledgeable service advisor.
Fred Meliksetian
1698707250
I had a great experience dealing with John the rep that greeted me at House Automotive. He explained everything clearly of the service that would be performed and the pricing, which was a little bit cheaper than that at the dealership. He also let me know what other things that I will be needing to be done for my car , but didn't push to hard to sell it and let me decide if and when I wanted to do it. Very pleasant to deal with.
In and out of there in 2 hrs. Last minute appt made the day before. Appreciate the prompt response and full and thorough inspection to prep my car for a road trip!
I had an exceptional experience at House Automotive in Thousand Oaks! From the moment I walked in, the staff was incredibly friendly and attentive. They provided top-notch service for my car, addressing all the issues with precision and efficiency. The team's expertise was evident, and they went the extra mile to ensure my vehicle was running perfectly before I left. I greatly appreciate their professionalism and dedication to customer satisfaction.I'll definitely be returning for any future automotive needs!
Love House Auto, it's my go to for anything Porsche! Greg, John, Aaron and all the techs are very knowledgeable and honest, always a pleasure dealing with them.
Everyone is friendly, helpful and professional. They explain what my car needs clearly. They paid for a 24 hr loaner from a rental company. They fixed my car and is driving nicely. I highly recommend them.
At the Porsche dealer, you are just another car owner,. At HOUSE, you're a valued Porsche owner.
This is a great location for Porsches. Andy Reyes is fantastic when it comes to having your Porsche serviced. He's quick to address any situations that may pop up. A loose connection piece, he finds it. A pump starts to give out, he lays out options. If a part on order is just not available and has to come from Germany, he keeps up with it. Absolutely professional.
I took my Panamera to a different Indy shop for an oil change today, and their diagnostic tool was unable to reset my oil service indicator light in my car. Andy from House Automotive came to my rescue and used their tool to reset my system, totally free-of-charge!! I sincerely appreciate his help and will definitely be going back to House for future services.
Stephen Hernandez
1697757460
The staff at House, especially Andy, are always great. They are efficient, helpful, and honest. Never have I had a mechanic talk me OUT of having unnecessary work done. Every time you enter the establishment they make you feel welcome with their upbeat demeanor and free drinks. During service they provide a complimentary one way Uber ride. Afterward they provide an option for a complimentary hand wash for your car! If you own a Porsche in the Pasadena area this place is a great first choice.
Maximilian Orozco
1697585720
I took my Porsche Carrera 911 to this place, after it sat at a previous mechanic's shop for a month and a half, because he couldn't diagnose the problem $1509,92 later. I then had it towed to this place and let me tell you something, the first thing John and his colleagues did was put me at ease, he was upfront with me, letting me know that it would take a couple of days before he got to my car and diagnose the problem, which he did and less than two days later mind you and got it running even better than it did before. I was and still am very pleased, and even more was the way I was treated all through out. John and his team made me feel as if I was the only customer they had that month, from now on this is the only place I'll take my car to ...
House has been fantastic servicing my Porsches! Friendly, knowledgeable and and quick to get back to me when I need service. I've always felt fairly treated and well informed about the work being done. Highly recommend.
Marshall Garlington
1697312078
I found House Automotive to be a sound business. The service representative I worked with (Andy) was competent, timely, friendly and responsive. My vehicle is a 2011 Panamera 4S. I'm the original owner.
Reginald McDowell
1697217352
Great service and amazing customer service. Would take my car back in the future for all my car maintenance needs.
First class service! Better than any Porsche dealer. Steven provided in depth explanation before and after my car was serviced. Great team and I'd recommend House Automotive to anyone and everyone who loves their Porsche.
AJ Brandenstein
1696640865
Easy. Low pressure. Nice people. Knowledgeable. Great experience!!!
I had an itch to bring out a more aggressive exhaust note from my 958 Cayenne GTS. So I called Greg at HOUSE Automotive for advice, his suggestion kept my truck emissions legal and opened such an aggressive exhaust note when I hit my exhaust button.The work was quick (about 2 hours) and extremely reasonable.If you're a Porsche owner and your vehicle is out of factory warranty, without any hesitation take it to HOUSE…they're truly the best alternative Indy Shop that specializes on Porsche vehicles only!Thank you!!!
For any Porsche owner whose car needs repair, finding a trustworthy proper Porsche repair shop is a difficult task. House Automotive solves that problem. House Automotive is an efficient, totally Porsche repair shop that does repairs in the Porsche way…correctly.
I've been taking my Macan to House for a few years and am really happy with their service. Prior to finding them, I had been going to the dealership, but I've found that they offer specialized Porsche service in a more personalized setting with better prices. A special shout out to Andy who's been taking care of me the last few times I've been in. He's very knowledgeable and helpful!
My service advisor today is Andy. He is very polite, informative and helpful. The work was done in a timely manner. I have been with them for 2 years. And happily recommend it to everyone.
John is one of the nicest service advisors you may have the opportunity to work with. Great experience, urgent, communicative, and thorough with my Porsche's repair process.
I had a 2015 Macan S with 75k miles that I always had serviced here and now I have a 2021 Macan S that I also have serviced with House Automotive. I always feel I'm getting the honest truth. The guys have great personalities and aren't trying to upsell services that are't necessary. In fact, Andy has gone out of his way to help me to source parts to mod my 2024 718 Caymon GTS. I would highly recommend them.Henry Hancock
Gianmarco is always fast and efficient!
Update: Just got my car back from yet another round of great service. Had my car in for an emergency repair and it was super easy considering they picked up my car for free. I don't think I'll ever stop bringing this car to the professionals here.Did a Post Purchase Inspection (bought the car from a shady dealer) and was helped by Andy. Quick and easy scheduling for work, very attentive and friendly staff (also looking at you Gary). The only gripe I have is that I was promised a set date for pickup and they had the audacity to finish all the work EARLY!! :)House in Pasadena really gives off the "we love our cars and car culture" vibe. Shame I don't work on cars because the atmosphere is great.
I recently purchased my first Porsche, a GT4, and had the pleasure of experiencing exceptional service at House Automotive. My friends highly recommended them, and I couldn't be happier with my decision. The team at House Automotive went above and beyond during my recent oil change. Not only did they expertly handle the service, but they also surprised me with a complimentary car wash that left my GT4 gleaming. Additionally, their thoughtful touch of providing a complimentary one-way Uber ride truly made the entire experience convenient and hassle-free. I'm incredibly impressed with their attention to detail and customer-focused approach. House Automotive is undoubtedly my go-to place for Porsche service, and I wholeheartedly give them a well-deserved five-star rating!
HOUSE Automotive is the only place I bring my Porsche. They're incredibly knowledgeable and have a "client 1st" mentality. We worked with Karina and she could not have been more helpful. I highly recommend House Automotive.
True professionals, Porsche experts
Roei Amsterdamer
1694449010
I can't imagine why anyone would go to a dealership when there is this option for your Porsche. Appointments are easily scheduled online or by phone and the staff couldn't be more pleasant and helpful. They don't try to upsell and thoroughly explain any recommendations for future service. Their pricing is much more reasonable than the dealerships.
Ann Marie McMahon
1694220733
Karina and John were very professional and their service was exceptional. Thank you for everything.
These guys know Porsches. I took my car to a local Porsche dealer for some work, and their communication was horrible. You won't have that problem at House Automotive. They will give you an honest assessment of some things that can (and will) go wrong with your car over time, because they have seen it all. If you talk to the folks at House about Porsches for 5 minutes, you will know they are the real deal.
Great customer service, John, Jeff and the team are awesome
this is a great shop and John from House Automotive is awesome! a good friend recommended this place for a PPI of a GT3. This was my first PPI and John guided me through this nervous journey. I've never had a shop that is so communicative and accommodating, and the inspection was the most thorough and everything was precisely and concisely documented. This is totally a place that I can trust to service my cars at!
Thanks to John and House Automotive Independent, he saved us over $16,000.00 in repair bills! I would highly recommend House Automotive for all your Porsche needs!Thank you John!
House Automotive staff are professional and knowledgeable in providing advice for your vehicle's needs. They also provide you with transportation services such as free rental car from enterprise while your car is getting worked on. Andy and John are wonderful at ensuring things are streamlined and keeping you updated on your vehicle status. I highly recommend that you check out House Automotive for your Porsche's needs.
Went in for my major service and few other items on the Carrera T, great location and so happy House Automotive has expanded into the Ventura County area. My service advisor Karina is fantastic, very knowledgeable and detail oriented. House Automotive has been instrumental in keeping my cars in peak performance condition. For any Porsche service and upgrade needs, definitely make house automotive your first choice. Great staff and expertise.
Joselyn Del Angel Donantonio
1692421547
Owning a Porsche is not cheap so therefore, finding a top quality mechanic at an affordable price is a priority for me. House Automotive definitely fits both those needs. I highly recommend them. I don't think you'll be disappointed.
Andy gave me a great experience. He kept me updated throughout my brake service process. Explained to me what was needed and what to expect on my next service. On top of that they are reasonably price.
I had consistent noise issue with both driver and the passenger doors, Rusnak Paaadena never would be more than happy to assist me without a high price charge. I took my car to House Auto, John and Ken were so nice to listen to me, explained the reason being and helped me fix the noises. It is not about they charge or they don't, they try to help their clients as much as they can. They are professional, friendly and very helpful. Great customer experience ever with Porsche. Thank you!
Excellent service from John! This was my first visit to House Auto. The job to address cylinder failure code error on my 2011 Panamera was $1000 less than the quote from my old mechanic for the exact same repair!Work was performed in 1 day, car was washed beautifully and a list of other preventative maintenance was provided.This is a great shop I will return for sure
highly recommend house auto for all your Porsche needs. Best service and best mechanics
best service and best techs. avoid the stealerships and go to house auto!
House Automotive needs more than 5 stars! I asked John and his crew perform a Pre-Purchase inspection on a Porsche 718 Cayman for me, since the seller was in his area and I live out-of-state. John was very accommodating on the scheduling the inspection, since the seller was bringing the car in and I was paying for the inspection. Their inspection was extremely thorough and he found more issues with the Cayman than I was willing to accept. He asked me to call him so we could review the inspection form, and he went trough it line by line to explain the defaults on the car. He also included photos of the areas of concern on the vehicle. I'm glad I spent the money because House Automotive probably saved me over 20 times the cost of the inspection in needed repairs. I found a different 718 Cayman in excellent condition, which I have now purchased. Thankfully the House Auto inspection on the "wrong car" led me to the right one!
Excellent service - fair honest and true experts. Highly recommend for your Porsche.
The team and John at House Automotive were superb! I highly recommend House Automotive to anyone. After a horrendous service and expense from the Porsche dealership, I will never return to service our Porsche's there again. If you want a competent, honest service team without being over charged, House Automotive is your Porsche service provider. Thank you, John, and House Automotive for fixing our Panamera without overcharging. We shall return!
Better service, better turn times, and better prices than my local Porsche dealership. Hands-down, it's just better.
Jeff Schlesinger
1689719539
These guys are the best. Just sorry I didn't go to them straight away after I purchased my 911. One thousand times better than the dealership.
John is my service advisor and he's always on top of it. He always makes sure to take down any special requests I have and follows through on them.
Went in for scheduled service and John made it a breeze. I really appreciate his attention to detail and focus on customer service. Walked thru everything that will be done and price breakdown. Nothing felt hidden. Dealer at times treats you like a number. The staff at House Automative treat you with value. I can spend my money anywhere. I appreciate being appreciated.
I strongly recommend HOUSE AUTOMOTIVE! If you are tired of getting ripped off by the dealers yet you want a Porsche specialist to work on your Porsche…look no further! The difference is HOUSE AUTOMOTIVE is HONEST, fairly priced yet 100% qualified!The level of personal service blows the dealer away! I take both my 997.2 as well as my 991.2 gt3T to HOUSE for all services!
Incredible customer service, fantastic products, A++++ all round. Thanks John for the fantastic experience!
First visit completed. I've tried to come before but they've given me advice over the phone free of charge that I shouldn't come in until XYZ happens. Always a good sign when a shop doesn't try to get you in to collect their diagnostic fee and tell you everything is fine. On the same day, they were able to get me in. Ubers home and back and a car wash. Work seems to be of quality. John at the front desk was awesome and kept me up to date. Prices are cheaper than the dealer. Will be back.
Fantastic experience with HOUSE that makes stopping in for service enjoyable -- great work, super friendly and transparent.
House automotive has been a partner in my car's care. They don't push unnecessary parts/upgrades on you, rather they'll help you better understand how each part may help influence what your ultimate goal is: more power, more handling, etc.My first experience with them was mixed, because they misdiagnosed an antenna issue on my 997.2. But ultimately they refunded my diagnostic fee and have been great and super communicative on future visits. They are my go to mechanic for my Porsche.
I have to say that Jay is one of the best service men I have met in a long time. He went out of his way to make sure I was taken care of and went the extra mile to help me with an issue I had while saving me time and money. Check this place out!
Fast and reliable, what more can you ask for?
Sabrina Mahboubi
1683593615
House undertook a major service on my 911 replacing a broken valve spring. They were timely in completing the job and communicated very well.
I wanted to thank Greg, John and the technicians at House automotive. I took on my "new to me" Cayenne GTS to replace all the fluids and to take a look for it. I could not be more satisfied by their service and professionally. Honestly ,House makes your feel like you are family. The minute you walk in at the Encino location you can tell this is a beautiful shop. I put my complete trust in them and highly recommend them to anyone everyone. Thank you again House and see you guys for the next service.
Byron Caballeros
1681311601
I needed someone to install front dash camera and found HOUSE Automotive through Yelp. They had great reviews so I reached out for a quick quote and Greg replied back promptly! I brought in my Blackvue XR900 and they explained to me processes and procedures in details. They are super professional and answer all of my questions in details. At the time of pick up, John helped me set up everything on my phone and compeleted the installation. Their service was definately exceeded my expectation and my experience was certainly better than how you get treated at Service Center. I am totally recommending this place to all Porsche owners! You will not regret!
Taehoon, Steve Kim
1678745272
Solid efficient service. With no BS or upselling.These guys are my new go to instead of the dealer.
House did a PPI for me last year, and they were able to knock out all the big items that popped up during the inspection. This was important as I flew in from out of state to pick up the car, then drove it out of state. House took care of all the work within a 4-5 day period. Can't thank these guys enough. If you have a Porsche, this is the place.
Always a pleasure dealing with the good folks at House. Been taking my turbo and gts there for years and they've been great! Highly recommend
John and the team did an outstanding job. Had a shredded belt replaced and performed major service on my 911. Like new again. Thanks so much and I'll be back for regular service.
Great Thanks to Jay and crew at House for their work keeping my 2008 Boxster RS60 on the road and running strong, it has found a home at House. Thanks
I've taken my car to House automotive for at least six years now and will continue to do so as long as I have a Porsche. Their customer service is top rate, and their pricing is fair. Much less expensive than taking your car to the dealership!
CHUCK HENDERSON
1674695394
Communication was amazing, John made everything simple and easy. I would absolutely choose this place again for any of my car needs
I had House Automotive perform the 80,000 mile service and they completed the job $150 under the estimate and $900.00 below the dealer estimate. They also gave me a thorough explanation of the work before and after the service.
Great customer service!! Highly knowledgeable, courteous, and a pleasure to work with.
Elyse Struckman
1672462978
Follow us on Instagram to stay up to date cool projects we're working on, special events and promos.